Exploring NEAR Blockchain
In the exciting world of blockchain, it's always fun to experiment with new applications and pioneering features. However, amidst the constant innovation, the importance of maintaining some stable, familiar tools cannot be underestimated. These foundation stones provide a secure environment for interaction with the latest developments. The quintessential example of such a tool is the non-custodial wallet, a crucial element for managing your digital assets securely. In the NEAR Protocol ecosystem, NEAR Mobile is rapidly gaining recognition as a dependable, user-friendly non-custodial wallet.
NEAR Mobile is NEAR Wallet Successor
As the NEAR Foundation plans to decommission its original wallet, NEAR Mobile stands ready to become the go-to solution. Unlike other wallets that are expanding their reach to multiple blockchains, NEAR Mobile retains its unwavering focus on the NEAR Protocol. This dedicated approach guarantees our users get the most tailored updates and improvements exclusively designed for the NEAR community.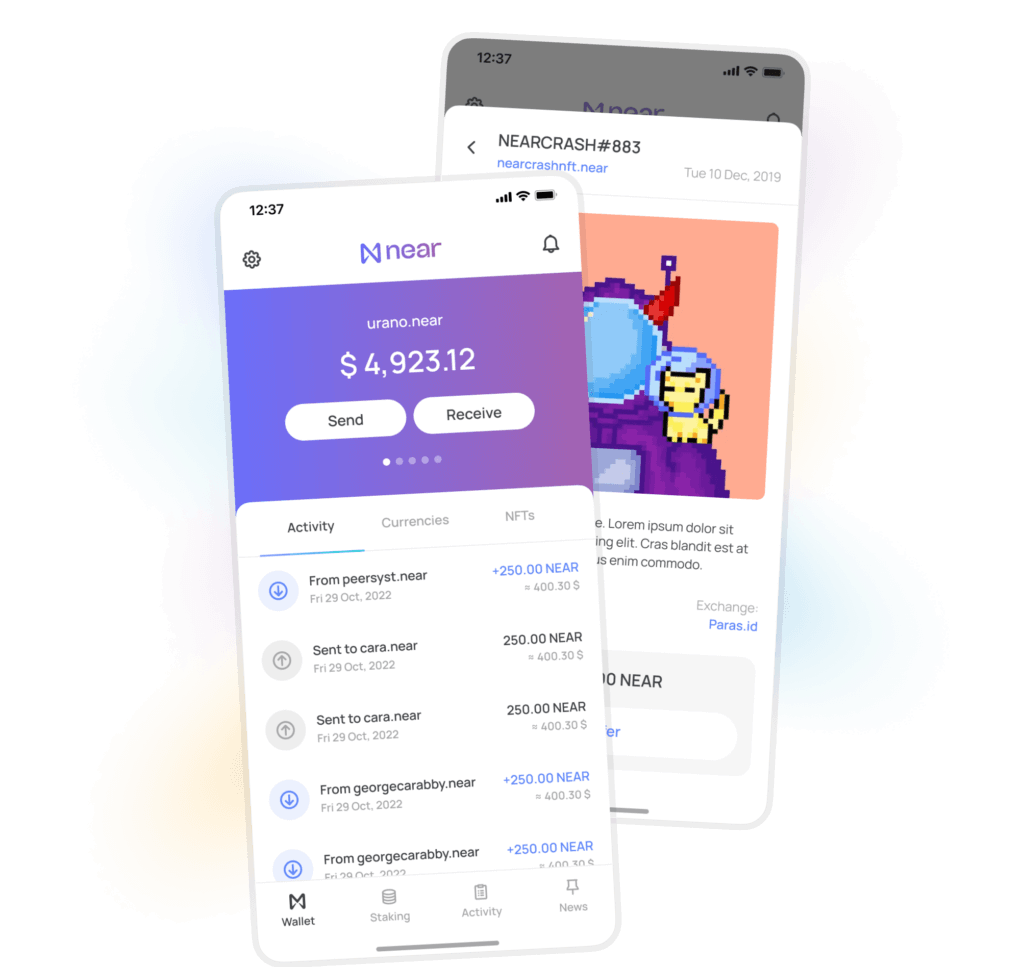 Guiding Principles of NEAR Mobile
NEAR Mobile is built on two primary pillars: intuitive design and a robust, meticulously tested infrastructure. Our design objective is to ensure user-friendliness for both blockchain veterans and newcomers, aligning with NEAR Protocol's goal of making blockchain technology accessible to everyone.
In terms of security and reliability, NEAR Mobile sets the bar high. Our commitment to rigorous testing and professional development means the app's reliability is never compromised for quicker feature rollouts. The upcoming wallet selector feature is a case in point, set to enable seamless integration with any dApp on the NEAR Blockchain, significantly enhancing the user experience.
NEAR Mobile's Alignment with NEAR Protocol
In the realm of blockchain technology, one of the critical challenges lies in transitioning users from web2 to web3. A pivotal component of this process is ensuring that the transition is as seamless and intuitive as possible. In this context, the NEAR Protocol shines by placing a high emphasis on building a blockchain that integrates familiar interfaces and intuitive interactions to facilitate this transition.
Echoing this ethos, NEAR Mobile strives to create a wallet that stands out due to its intuitive interface and appealing design. Our primary aim is to make the leap from web2 to web3 a less daunting and more enjoyable experience for all our users. By putting the user at the center of our design philosophy, we ensure that our platform is not just another wallet but a comprehensive solution that aligns perfectly with the future trajectory of the NEAR Protocol.
NEAR Protocol's Progress: Insights from Messari
A recent Messari report highlights NEAR's steady growth, forecasting a promising future for NEAR wallets, particularly NEAR Mobile. Despite a SEC complaint listing NEAR among 13 other assets, NEAR's financial and network fundamentals remained steady.
Significant developments like the BOS launch have helped NEAR Protocol to advance rapidly. This includes the creation of 6,000 widgets and over 15,000 user accounts on NEAR Social, and the impressive performance of the Sweat Economy with 19 million wallets.
The NEAR Foundation continues its decentralization journey by launching several community DAOs. Along with strategic partnerships, these efforts are driving NEAR towards its 2023 goal of wider adoption and a larger user base for the NEAR Protocol and BOS.
NEAR Protocol and Polygon zkEVM: Accelerating Mainstream Adoption
NEAR Protocol's distinctive Blockchain Operating System (BOS) is not just about making Web3 more accessible and straightforward. It's also about creating a universal layer that links various blockchain networks, aiding developers in creating new decentralized apps (dApps) and helping users discover exciting Web3 applications.
This mission recently received a substantial boost with the integration of Polygon zkEVM on the NEAR BOS. This partnership underscores both Polygon Labs and NEAR's shared mission to speed up the adoption of open web and expand options for developers across blockchain ecosystems.
Polygon zkEVM's integration on the NEAR BOS marks a significant stride towards empowering more developers to scale Ethereum with the latest zero-knowledge technology. It represents a crucial step in making the Web3 experience more familiar to Web2 users, reflecting the ethos of NEAR Mobile Wallet's user-friendly approach.
This collaboration illustrates how NEAR Protocol, through initiatives like BOS, is revolutionizing blockchain interoperability, bringing us closer to a future where the boundaries between different blockchain networks become increasingly seamless.
Embracing the Future with NEAR Wallet
In the world of blockchain technology, NEAR Mobile Wallet distinguishes itself by providing an intuitive, user-friendly experience aligned with NEAR Protocol's goals. As NEAR pioneers the Blockchain Operating System (BOS), NEAR Mobile Wallet mirrors this innovation, making web3 interaction more accessible and enjoyable.
The upcoming decommissioning of NEAR Foundation's wallet opens an opportunity for NEAR Mobile Wallet to step in as the ideal choice for NEAR Protocol users. Our commitment to offering a reliable user experience positions us perfectly for this role.
NEAR Mobile Wallet is your gateway to secure and effortless interaction with the NEAR Protocol. As we continue to grow with the NEAR community, we remain your trusted companion in this journey. Join us as we explore the future of the NEAR Protocol, offering endless possibilities.